The end of Day 3 was pretty dramatic. We actually finished our work a little early and headed back to camp only to find the main circus tent, containing all our food and water, was practically on its side. The wind was so extreme that day it had ripped several of the stakes out of the ground. It was all hands on deck as 3-4 of us would pull the tent against the wind while a couple others re-staked and loaded the ties with heavy rocks. It was quite the ordeal but we were successful (for a moment, hold ya horses). After fixing up the tent and patting each other on the back we used the rest of our early afternoon to explore the area. Amanda and I hiked to a couple hilltops and could barely stand up straight up to take these photos
As we made our way back to camp along with the others, our own personal hell was waiting for us. Sure the stakes stayed because our blood sweat and tears went into them but now the central pole holding up the entire tent had SNAPPED IN HALF. We scrambled to pull out the goods and load them into the trailer and then defeatedly packed up the tent. That night was the COLDEST and WINDIEST night I've ever experienced. I could hear the howling winds from miles away, moving over the land before colliding into my tent. Combined with the dropping temperatures, I woke up to a layer of ice and a frozen rain zip. The rocks I had placed to keep my stakes down had held up surprisingly well for how bad the wind sounded. Amanda however, woke up to her tent completely wrapped around her as her cocoon sleeping bag body was the only thing holding it down. I recently looked at the weather data for that night and sure enough the low was 20F and the maximum wind gusts were collected at 40MPH (!!!)
Day 4
With the high stress of the night before Lindsay decided we should take our "education day". A very cool thing about working the BLM Ridgecrest Project, we are allowed to take a day of work to explore the surrounding area as a self-educating mental break. The destination we decided on was Fossil Falls, a LAVA FLOW formation that was carved to its current state by the Owens River. The rocks were almost soft to the touch they were so worn.
After the falls we spent the afternoon driving around, eventually ending up in the Eastern Sierra Mountains. Bonus, it was snowing! As we drove higher and higher in elevation it was amazing to see the Mojave shrubs and Joshua trees turn into evergreens and snowflakes. Note: this was literally the second time I've ever seen real snowflakes sooooo…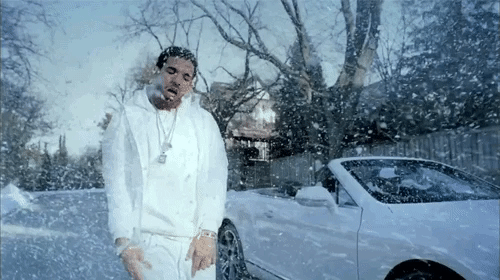 We stopped to take in the views for a moment before heading back down to our desert abode.
Day 5
We woke up to another cold morning so we had stretch and safety on the lake where it was warmer. We spent the day vertical mulching once again with some interesting desert finds. I stumbled across a kangaroo rat skull and Kelsey found a lizard dangling from a pointed creosote branch. A predatory bird called the Loggerhead Shrike can be deemed responsible. They prey mainly on lizards and are known for being particularly violent with them. After catching one with their sharp beak, male Shrike's will impale the reptile onto a pointed branch, thorn, or barbed wire to show the females they are able to catch more food than they can eat. A man that provides, must be nice.
Day 6
Full 10 hour day of vertical mulching.
Day 7
Last whole day, see Day 6. Lots of Navy planes around and bombs going off that are impossible to ignore. The desert can be eerily quiet at times so you can imagine the adrenaline rush after a couple bombs echo through.
Fun fact: I later learn that the naval pilots will often use us as TARGET PRACTICE while flying above our worksite. No wonder I could have sworn one was headed RIGHT AT ME. Nice.
Day 8
Half day and a de-rig at the Ridgecrest house before heading back to sweet Dulzura.
Thoughts? I love the desert! It's an environment I'm unfamiliar with and probably won't work in outside of ACE so it's proving quite the experience. The colors are a beautiful pastel during the day and vibrant shades of blue and orange at sunrise and sunset. The work can become redundant, but I found myself in such a content moment of zen most of the time. It's nice to just be in your own thoughts in nature. Very Thoreau. But, I will definitely be downloading some podcasts for next time so hit me with those recommendations! Knowledge is power.
According to the schedule I will be on Ridgecrest through most of April and I'm pretty excited about it. The crew leads Lindsay and Caitlin have amazing energies that really set a positive tone for hitch. Lindsay also mentioned some outreach events in the near future where we will spend time talking to the public about the work we are doing! (and I think we all know that's a personal forte of mine – talking. about. what. I. love.)
As for that desert riddle…ahem…
The men are attempting to row paddles in the desert. Sand is gritty. It will "wear" down the paddle. Wear and Tear. Therefore, when one says "Where's you paddle" the other, in acknowledgment of the difficulty of rowing through sand exclaims "Sure does!"
Boom.
Special shoutout to my father who texted me the answer to this riddle within 15 minutes of me posting it in the previous blog, you continue to impress me.
I will see y'all for next desert hitch!
Stay Dusty,
Jules