Third Hitch, 8 days, tent camping, no amenities, and ya gurl is in the Mojave Desert! The destination is Ridgecrest, California where ACE actually has a small house rented out. ACE has been working with the Bureau of Land Management on this project since last November with two crews who alternate their off days at the house. The project is aimed at restoring the desert ecosystem for the highly endangered Desert Tortoise, who is native to the Mojave and Sonoran desert.
Here's a shy one
Here's a baby one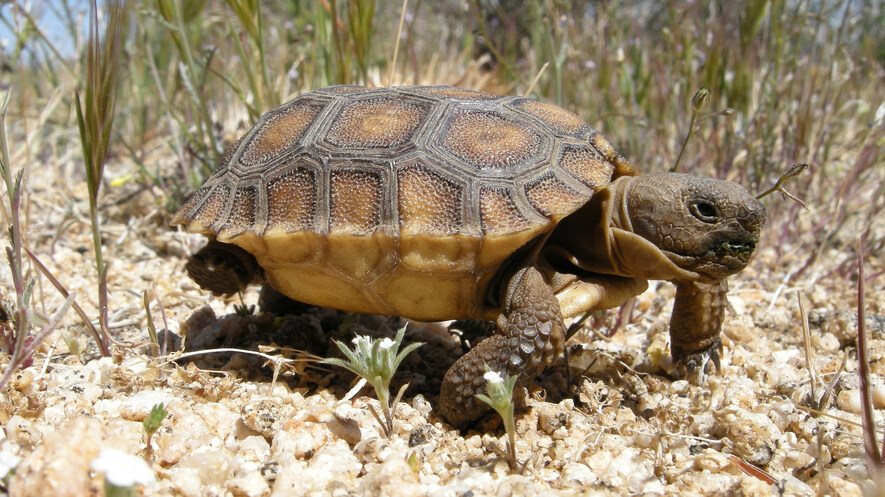 And here's one getting in his steps for the day
Day 1
Travel day. Ridgecrest is 5ish hours from our cozy but falling apart (more on that later) Dulzura house. Half our crew is already there so we head straight to site to set up camp. Unlike Irvine we are not at a real campground so we are free to spread out our tents. I finish staking mine in just in time for dinner and the first of many jaw dropping sunsets.
Day 2
7AM – First full day and I have something very important to mention before I continue any further. WE ARE WORKING RIGHT NEXT TO THE LAKE WHERE THEY FILMED 'HOLES'. THE LAKE.
Here's the Camp Green Lake gang digging holes
And here's me, same lake, shovel in hand, ready to dig holes
Pretty cool right?
Right.
We do a brief stretch and safety circle once we arrive and our crew leader Lindsay takes some time to debrief us new P's on the goals for this hitch. The BLM land we are camping on has various roads and trails running throughout. Some are marked for vehicles and some are footpaths only. Unfortunately however, there are just as many illegal trails created by Off Highway Vehicles (OHV) such as dune buggies, dirt bikes, etc. They destroy the native landscape and put desert species (like our sweet tortoise friend) at risk. We will be spending this hitch masking these trails via vertical mulching. Essentially this means digging up holes, aerating the soil, replanting natives, and sweeping over tracks to mask the illegal paths and discourage drivers from re-creating them.
Overall the first day in the field turned out to be an interesting one. Midday one of my crew mates Jake found a seemingly carved stone different from the surrounding ones. We call up the BLM archeologist, who upon examining the stone declares it's a gypsum point about 4,000 years old. Ahem. FOUR THOUSAND YEARS OLD. Casual. He then goes on to say it was most likely designed to be thrown with an atlatl:
Fun Fact, I threw one of these babies at a Texas history museum in 4th grade and may have geeked out a little when he dropped the word atlatl. The archeologist said he would be putting the point in a museum along with our names! Jake's first of course, but I am shook by the honorable mention. Jake's new name is Gyp now, it's been decided, by me.
That night we howled at the full Pisces moon.
Day 3
We finished up the polygon we had been working on by the (Camp Green) lake and moved to a new one. The vegetation by the lake was more low lying and shrubby, so gathering bits to replant looked like this
The new polygon was dominated by Creosote, a highly water efficient bush that thrives in the desert ecosystem.
Behold
Some of these guys are over 100 years old, and boy do they look it. At their roots you often find systems of holes belonging to several species such as the rattlesnake, kangaroo rat, and desert tarantula. All of which I have yet to spot as they are most active at night. However, warming temperatures will be bringing out the rattlers soon enough. Eek.
My favorite desert plant though is the Joshua Tree
Like the tortoise they are an endangered species, but we were lucky to be working right next to this one for most of our day. They look like a mix between a palm tree and a cactus and are about 25 ft high on average. Very cool Josh, very cool.
With everyone in the vertical mulching groove the day was going by smoothly. But, thats not a typical desert day now is it. Paige discovered a.. shrine?
A wooden cross arranged with Halloween decor. Weird. It gets weirder. The metal box just behind it had been spray painted for camouflage, padlocked, and chained around the creosote (??!!??) I don't know and I don't want to know. It's only day 3 and I'm in complete understanding of what "desert crazy" means.
That night over dinner I was stumped for an embarrassing 2 hours on this desert riddle…
"Two men are rowing a boat in the desert. One says to the other,
'Where's your paddle?'
To which he replies,
'Sure does'"
… why? I'll let you think it over.
With more desert drama ahead I've decided to split this hitch into two posts. I'll have the answer to the riddle in the second 😉
Jules