Today wrapped up our second and last day of training. We covered the logistics of logging hours, time off, and house rules. We became Leave No Trace certified. We picked up some HOES. But really, we finally got our hands on some tools and learned the fundamentals of cleaning up and maintaining a trail.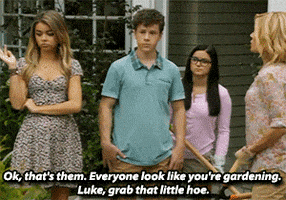 With all us noobs trained up and officially sworn in as ACE and AmeriCorps members, they did not hesitate to throw us into the ring. 6 of the 9 of us, myself included, will be heading out on an 8 day hitch tomorrow morning at a crisp 7 AM. The destination: Irvine Ranch Conservancy. It will be more front country, in that we will have our own campground with bathrooms and showers. However, Lily our project leader, suggested we treat it like a backcountry hitch to get into good habits. Good habits meaning ultralight packing, no showering, only necessary hygiene, and embracing a minimalistic lifestyle when we get out there. And ya gurl is ready to do some embracing.
My 70L pack will be holding these goods:
Clothing
Carharrt pants + ACE long sleeve shirt (working)
Sweatpants + UT Windbreaker (not working)
Leggings + fitted long sleeve shirt (i'm always cold layer)
Rain Jacket
Rain Pants
5 pairs underwear
2 pairs of socks (1 for layering, 2 heavy duty)
3 Bandanas
Buff
Beanie
Birkenstocks
Gear
Sleeping Bag
Inflatable sleeping pad
Inflatable Pillow
Headlamp
4L Water Pouch
Small YETI Rambler for coffee/hot foods
Large YETI 1L Water Jug
GoPro+GoPro Stick+GoPro Extra Battery
25L pack to be used as daypack to carry water/food to work site
Toiletries/Other
Face Sunscreen/Tinted Moisturizer SPF 50
Toothbrush (travel)
Toothpaste (travel)
Dry Shampoo (travel)
Deodorant
Face/Body Wipes
Gold Bond power
Tweezers
Hair Ties
Q-Tips
Comb
I am interested to see how my packing list changes over time, but more interested in the satisfaction I hope to gain while living minimally and performing meaningful work 🙂 (mushy, but really)
As excited as I am, there are some nerves. The kind of work we are doing is very physical and I hope my lil 110 lb body gains the endurance for it quickly. 8 days is pretty long, but we will have those front country comforts. So maybe it won't be too bad, and a good precursor into the tougher backcountry work later on. Idk. I don't know what I'm talking about. I've never done this stuff before. All I know is Lily seems to believe in me and I can't let her down, plus she is a spitting image of Ilana Wexler which makes me like her even more..now I miss watching Broad City with my sister. Damn. Hi Sophie.
Well the roomies and I will be waking up at 5:30 so I should probably get some zzz's. Goodnight, I'll see ya in 8 days. Unless you smell me first lol.
Jules